Morocco is one of my favourite destinations to travel. This country has everything – amazing scenery, fabulous architecture, wonderful people and amazing food. It's also home to several Game of Thrones film locations. Ait BenHaddou in Ouarzazate was the film location of Yunkai and Essaouira's ramparts doubled up as the perfect spot to film the unsullied in Astapor. Here's our guide to the best Game of Thrones Morocco film locations.
The Ideal Morocco Game of Thrones Itinerary
If you are a Game of Thrones fan, aim to spend at least 10 days to two weeks in Morocco to fully appreciate the country's culture and take in the GOT film locations. In a 10 week schedule, you will be able to see Marrakech, Ait Benhaddou (Yunkai) and Essaouira (Astapor).
Game of Thrones Morocco – Ait Benhaddou as Yunkai
The amazing historic fort (or Kasbah) of Ait Benhaddou was the film location of Yunkai. This is where Daenaerys Targaryan was held up to the chanting of 'Mhysa' in "Mhysa" is the tenth and final episode of the third season of Game of Thrones.
Ait Benhaddou became a UNESCO World Heritage site in 1987. It is positioned on the ancient Caravan route between the Sahara and Marrakech.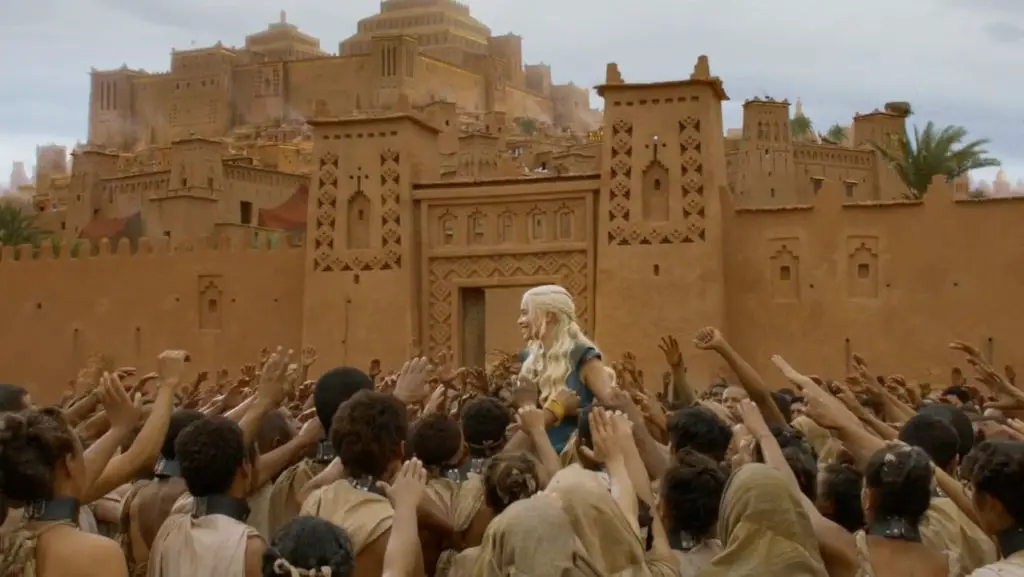 As well as Game of Thrones, Ait Benhaddou has also been used in many other film sets including Gladiator and Lawrence of Arabia. It's easy to see why this historical fortress makes such a good movie location!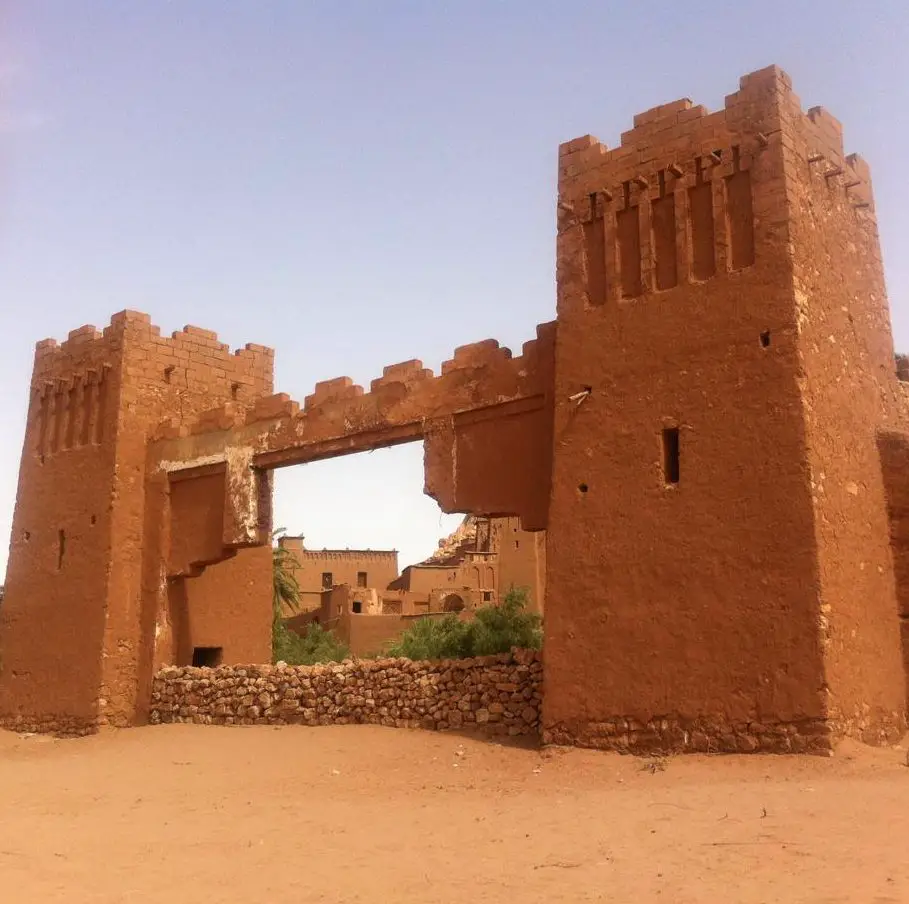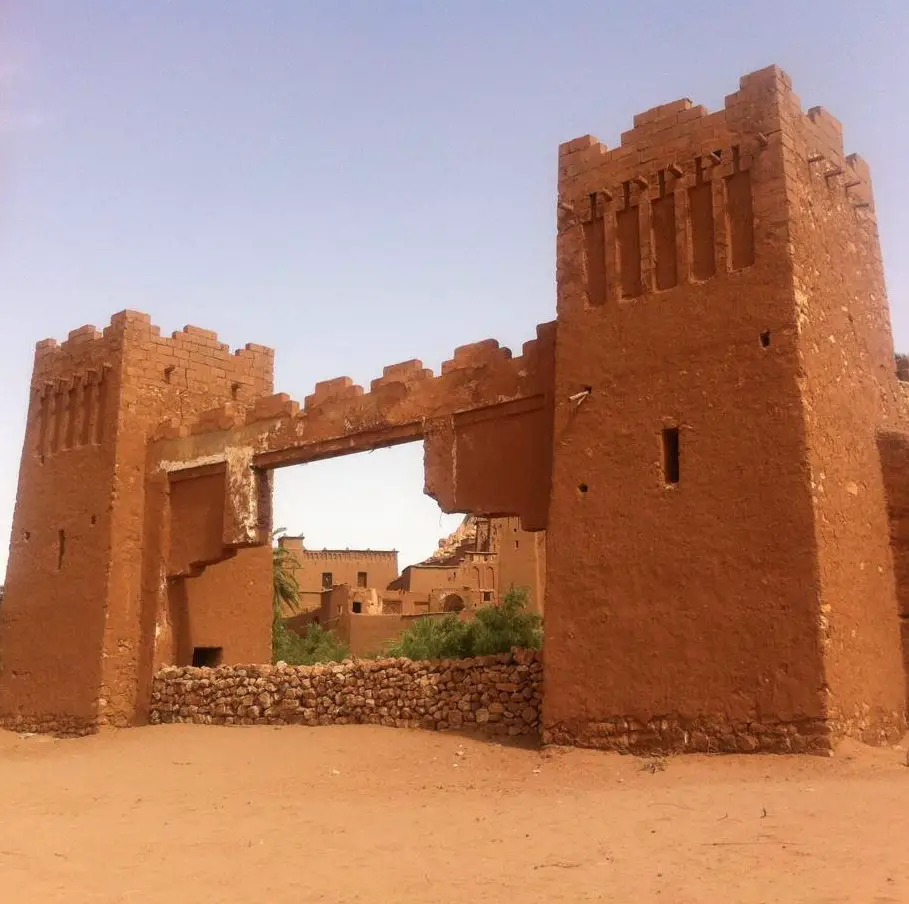 The fort can be explored on foot and is free to enter. I recommend at least two hours to fully explore the winding streets of the Kasbah. Avoid going in the heat of the day and make sure that you take plenty of water and a head covering – it can get extremely hot out there as you are pretty much in the Sahara Desert.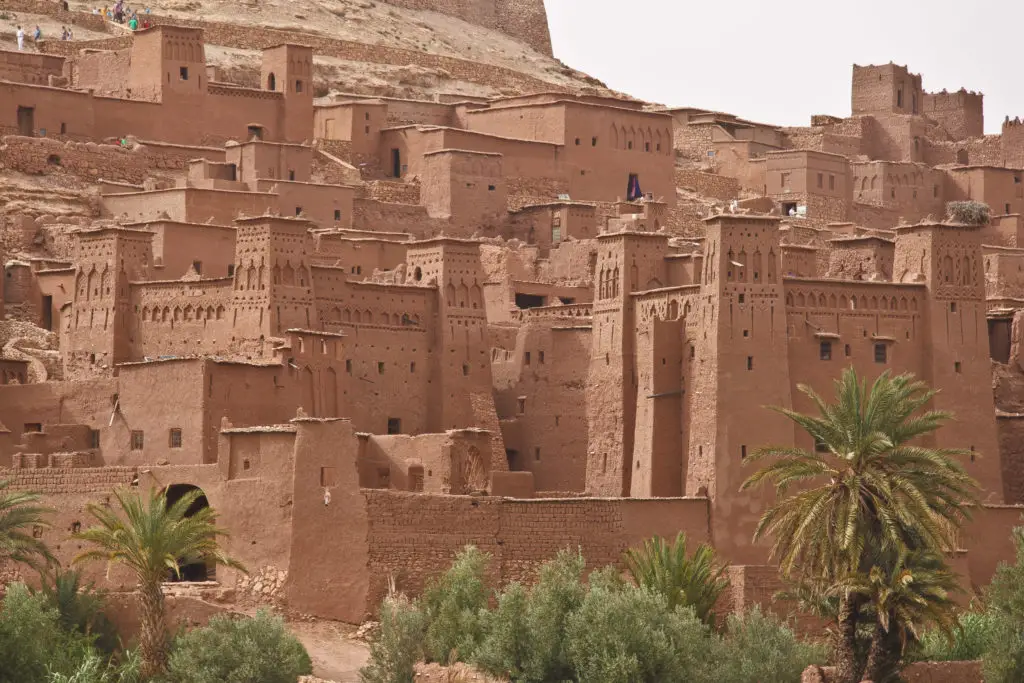 Getting to Ait Benhaddou
If you fly into Marrakech, you will need to take the winding three to four hour journey from Marrakech across the Atlas Mountains towards Ouarzazate to see this site, but it is well worth it.
To get to Ait Benhaddou you need to travel over the Tichka pass through the Atlas Mountains. The ride can be very windy and bumpy so take travel sickness pills and plenty of water, particularly if you are prone to car sickness. The car takes around 3 hours approximately, and you will get some amazing pictures of the Atlas mountains. if you get a private driver he will stop off at the most scenic spots for photography.
There is a local public bus, but I wouldn't recommend it as it takes a lot longer (up to 5 hours for the journey from Marrakech to Ouarzazate and you then have to take a taxi from Ouarzazate to Ait Benhaddou (you shouldn't be paying more than around 250-300 Dirhams for a return taxi from Ouarzazate to Ait Benhaddou.
Tours of Ait Benhaddou from Marrakech
It is possible to do a day tour to Ait Benhaddou from Marrakech. However, it is a long journey across the Atlas Mountains to Ourzazate so it is recommended that you spend a couple of days based in Ouarzazate if you can. You can then explore the Atlas Studios, Ouarzazate town and some local areas of natural beauty such as Fintt Oasis and the Berber village of Nkob.
If you have limited time and do want to take a tour of Ait Benhaddou from Marrakech we recommend these tours with Get Your Guide. It's an early pick up from your Marrakech hotel. Both of these trips include an air conditioned vehicle across the Atlas Mountains to Ait Benhaddou.
Game of Thrones Morocco – The Atlas Studios
While you are staying in Ouarzazate to explore Ait Benhaddou, take the time to also visit the Atlas Studios, where some of the most thrilling scenes of the ice and fire saga were shot.
Atlas Film Studios was built in 1983 when Moroccan entrepreneur Mohamed Belghmi recognized the need for a permanent film studio in the area. But even before that, Ouarzazate was first used as a movie location by David Lean for his 1962 epic Lawrence of Arabia. More recently, Atlas Studios have also been used for the filming of Alexander the Great, Black Hawk down, Galdiator and the Mummy.
Atlas Film Studios are just 5 minutes outside the town of Ouarzazate and the entrance fee of 50 Dinars is worth it. At the time of writing, it was an extra 40 Dirhams to see the Kingdom of Heaven set.
Game of Thrones Morocco – Essaouira as Astapor
Travelling to the coast following a stint in the desert will be a refreshing experience. Another key Game of Thrones film location is the beautiful coastal town of Essaouira. It's around two and a half hours by car to Essaouira from Marrakech. There is also a bus that takes approximately three hours. The roads are much straight and comfortable – a much more pleasant journey than the Tizi-n-Tichka pass to Ait Benhaddou!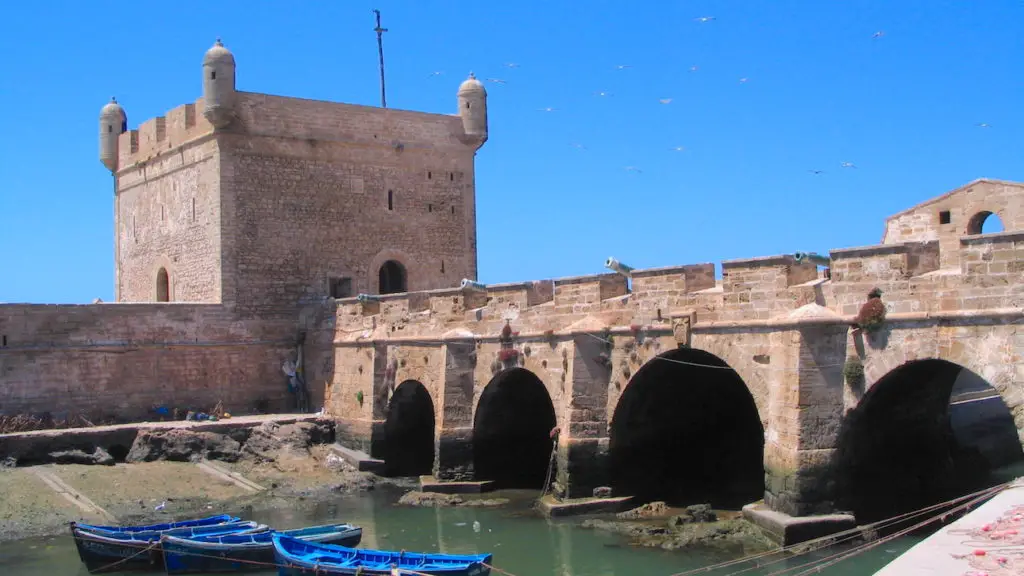 The ramparts of Essaouira port doubled up as Astapor where Daenaerys travelled to buy her army of unsullied. The unsullied are warrior Eunuch's who can offer their skills in battle. Visit the ramparts early in the morning to avoid a load of tourists on your pictures!
Other highlights of Essaouira include the Harbour and fish market, the Kasbah and the souks.
How Long to Spend in Essaouira?
It is possible to see Essaouira in a day trip from Marrakech. However, although it is doable in a day, three days are recommended to fully enjoy this beautiful coastal town. If you have limited time, we recommend this day trip to Essaouira from Marrakech with Get Your Guide.
Further Reading
If you enjoyed our Game of Thrones Morocco guide, you might also be interested in a 3 Day Desert Tour from Marrakech. Want more on Game of Thrones? Read about the Viator Game of Thrones Tour.