Cushendun Caves is a hidden famous landmark in Northern Ireland, formed by over 400 million years of extreme weather conditions. Cushendun (which is now cared for by the National Trust) was built in Cornish style. The pubs, tearooms, and shops unique for that part of Ireland are definitely one of the attractions that tourists want to visit besides the beautiful landscapes and unique Cornish buildings. Cushenden is a fabulous pilgrimage trip for any Game of Thrones fan.
Game of Thrones Cushenden Caves Scenes
Many of us may have heard about Cushendun Caves, but never actually decided to visit until they were made famous through scenes in the Game of Thrones. Fans of Game of Thrones know this place as the place where Melisandre birthed her shadow monster. It's also known for one of the last episodes of GOT where Sir Jaime had a sword fight with Eurion. This place is definitely worth a stop if you are passing by!
Top Cushenden Caves Travel Tip:
If you are traveling to Cushendun Caves by car, there's no parking, so you have to leave the car somewhere nearby and be prepared to walk a little!
Beautiful Bed and Breakfasts in Cushendun
Strand House Bed and Breakfast
Ideal for escaping the hustle from everyday life, the Strand House Bed and Breakfast cottage is in the heart of the Antrim coast. With outstanding natural beauty and dramatic landscapes surrounding the cottage from the Game of Thrones series. Families, history enthusiasts and Game Of Thrones fans will love this place.
Cullentra House
Cullentra House has some extremely spacious rooms which are traditionally decorated with stylish linens and wooden furniture, overlooking the Sea of Moyle. They are serving delicious home-made breakfast options and vegetarian choices.
Water's Edge Glenarm Bed and Breakfast
Water's Edge Glenarm Bed and Breakfast-  located on the Causeway Coastal Route in the village of Glenarm, 30minutes form Cudhenden. It's a beautiful property with spectacular sea view. They serve delicious breakfast and homemade cakes. Closer to this home The Steensons Jewellery Workshop (who made many signature pieces for TV show Game of Thrones)or visit the film locations for Game of Thrones along the coastline.
Authentic pubs and Restaurants in Cushenden
Corner House Tea Room
Corner House Tea Room The National Trust–owned Corner House serves coffee, home-made cakes, scones, cooked breakfasts, and lunchtime soups and salads.
Mary McBrides
Mary McBride's one of the smallest pubs in Ireland, located on Cushendun's Main Street. Named after the former landlady Mary McBride's, it's a must-visit for everyone who's planning to visit Cudhenden.  Serving traditional fare, known as the Irish Whiskey Bar. There's often music during the summer months, which makes this place even more special. Downstairs you'll be able to avail of the pub grub menu, or upstairs, why not check out The Little Black Door, which specializes in seafood. It is open from 6-9 p.m.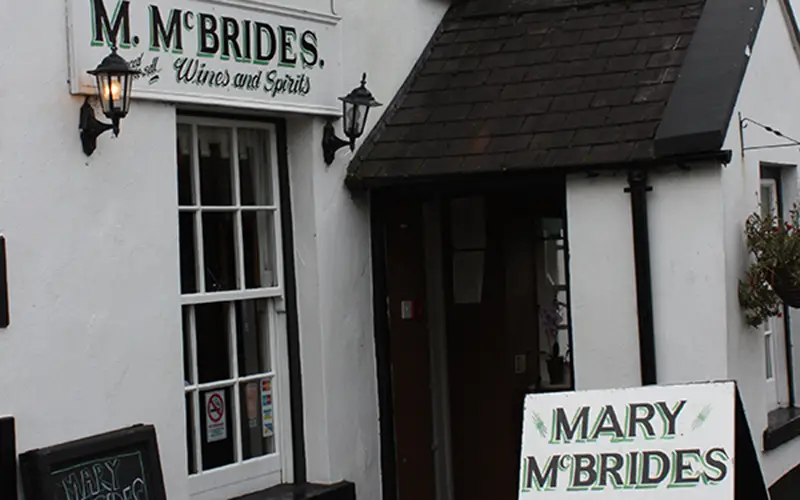 Joe's Seafood Bar & Steakhouse
Joe's Seafood Bar & Steakhouse has plenty of delicious seafood and steak for everyone's taste!
Guided Tours in Cushendun
If you are planning to visit Northern Ireland, I recommend that you take a guided day trip to Northern Ireland to visit the famous spots of Game Of Thrones where they filmed the series. Also, kayaking around Cushendunn Caves is a great way to see these wonderful caves from a very different viewpoint.
Events throughout the Year
August – If you are going there in August don't miss the Heart of the Glens Festival.
Going there for Christmas? Don't forget to visit Antrim Castle Gardens, which is one of the most beautiful places to visit there.
Summer – If you want more chilled days the beaches at Cushendall, Ballygally, Glenarm and Carnlough all hit the spot.

What to pack for Ireland?
Ireland can be a packing challenge throughout all the seasons. One rule you should always remember is that the weather can be unpredictable and the possibility to rain is real every day.
Meaning you should definitely pack something warm: rainy jacket, umbrella, closed-toed shoes (and one extra pair), hat, scarf, and gloves.
Don't forget your travel insurance!
Travel insurance is so important as it will help you with emergencies and unexpected costs on your trip. Make sure that you declare any pre-existing health conditions so that you are covered for those. Check your cover for accidents and medical care and also lost baggage or getting things stolen. Remember to report as soon as something goes wrong on your trip because some travel insurance companies require you to report things that you want to claim for within 24 hours. Read the fine print carefully when you sign up. I always use and recommend World Nomads. You can get a free quote here:
Further reading about Game Of Thrones travel:
Game Of Thrones Northern Ireland tour
Game Of Thrones Croatia tours