This week, we asked 5 travel bloggers to share their favourite Game of Thrones filming locations. As expected, Croatia, Spain and Northern Ireland feature highly as top GOT travel destinations.
Top Game of Thrones Filming Locations
Dubrovnik, Croatia
by Smita Bhattacharya of https://www.smitabhattacharya.com/
I'd be lying if I said I never thought of Game of Thrones when I zeroed in on visiting Croatia in the summer of 2018. GOT was the primary reason, in specific, the shooting locations in Dubrovnik. The city itself is drop-dead gorgeous, and the GOT sites even more so. It was a dream come true for me.
So what GOT spots do Dubrovnik boast of? More than you probably knew. But let me list my favourite five:
Fort Lovrijenac: Dubrovnik is the setting for the capital city of Westeros i.e. King's landing and Fort Lovrijenac (also called St. Lawrence Fortress) is the setting for Red Keep. Several key scenes, such as King Joffrey's name day, was shot here. Season 2, episode 1.
West Harbour: Right below Fort Lovrijenac are two doors built into the rocks. This location featured in season 2 episode 1 when the gold cloaks came to murder Robert Baratheon's bastard children. It makes for a very pretty picture indeed.
West Pier: Right beneath Fort Lovrijenac is Blackwater Bay, where Stannis Baratheon came to beat king Joffrey. In another scene, Sansa and Littlefinger discussed their plans of escaping (Season 3, Episode 1).
The Jesuit Staircase: The long flight of stairs by Saint Ignatius Church was the setting of one of the most horrific and impactful scenes in GOT, which garnered a lot of sympathy for the otherwise reviled Cersei. This was when Cersei was forced to walk naked from the Great Sept of Baelor to the Red Keep. Season 5, Episode 10.
Lokrum Island: Located just off the coast of Dubrovnik, the Lokrum Game of Thrones Island is full of gravelly paths, tall trees, peacocks, and rabbits! The monastery in the island was the setting for Qarth and there is a Game of Thrones mini-museum on the island where you can click pictures sitting on the Iron Throne. Qarth featured primarily in season 2, episode 5.
There are several walking tours that take you through the main GOT sites. I went with Dubrovnik walking tours (one with the red umbrella) which was great. The tour was cheap at 150 Kuna (additional 50 Kuna as entry fee to Fort Lovrijenac if you do not have the tickets).
Follow Smita On Twitter: https://twitter.com/smitabe
Diocletian's Palace – Split, Croatia
By Diana from theelusivefamily.com.
Games of Thrones has worldwide appeal and seeks some of the best spots when filming.  Among the most famous and remarkable spots that has appeared on the show, Diocletian's Palace is one recognizable and one of the most beautiful places featured in the series.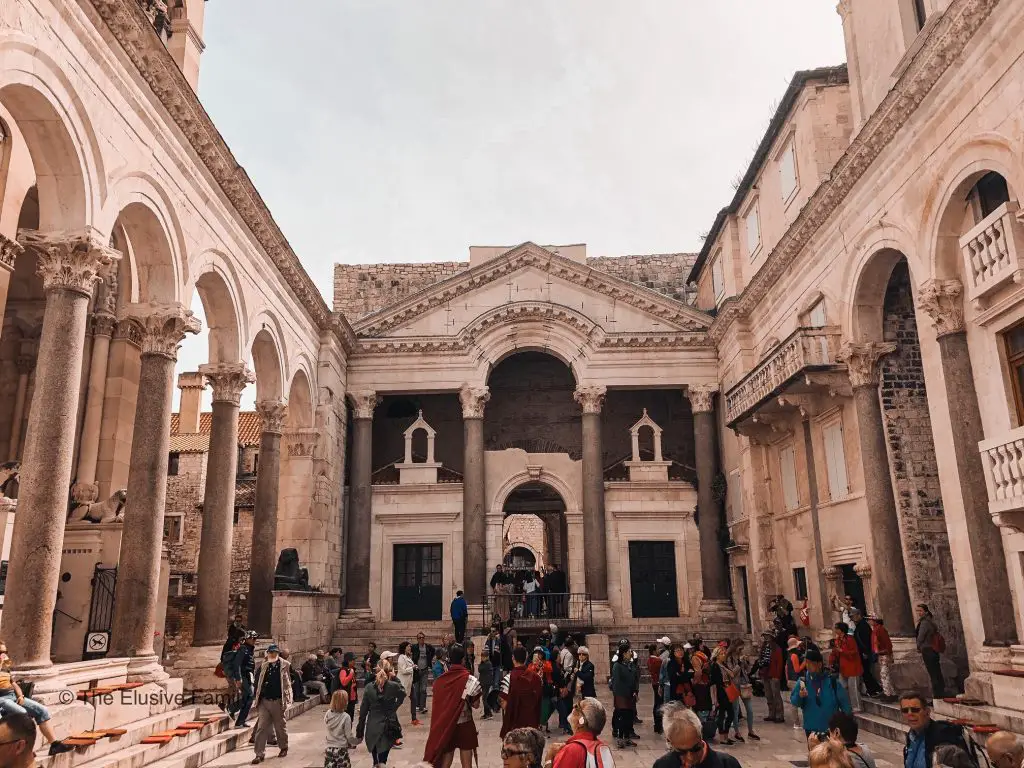 Diocletian's Palace is in Split, which is Croatia's second largest city.  Located on the Adriatic Sea, this seaside town boasts this old ruined palace – the largest and most preserved Roman palace outside of Rome. Made of white stone gathered from nearby islands as well as inland locations in Croatia, this massive palace took approximately 10 years to build.
Diocletian's palace has been the setting or a variety of Game of Thrones episodes mainly many of Daenerys scenes.  Season 4, episode 4 "Oathkeeper" features interiors of the palace, as well as several in Season 5 including "Sons of Harpy," and "Kill the Boy."  Oathkeeper is among the best episodes as it has seen a lot of filming done in and around Diocletian's Palace creating more realistic scenery.
The basement of Diocletian's Palace saw the filming of the scene where Daenarys Targaryen keeps her dragons, as well as the location for the throne room.  In Sons of Harpy, the Vestibulum was the location for the fights between the Unsullied and the Sons of Harpy.  The massacre site in one of the episodes was also right inside one of the courtyards at the Palace
Split is a beautiful destination and worth a visit. It is a great mix of local history and culture, with a rich Roman history engrained in the city and the city sits on the Adriatic.  
The Real Alcázar in Seville, Spain
By Justine Ancheta from Latitudefortyone.com.
The Real Alcázar is an ancient, breathtaking palace of Islamic Gothic, Mudejar, Renaissance, and baroque architecture. This lavish space was built in 913, and has been renovated repeatedly over 11 centuries. With incredible details still intact, it was registered as a UNESCO World Heritage site in 1987. Its elaborate gold tiling, colonnaded patios, horseshoe arches, and Mudejar geometric patterns make it a stunning background to recreate Dorne of Westeros.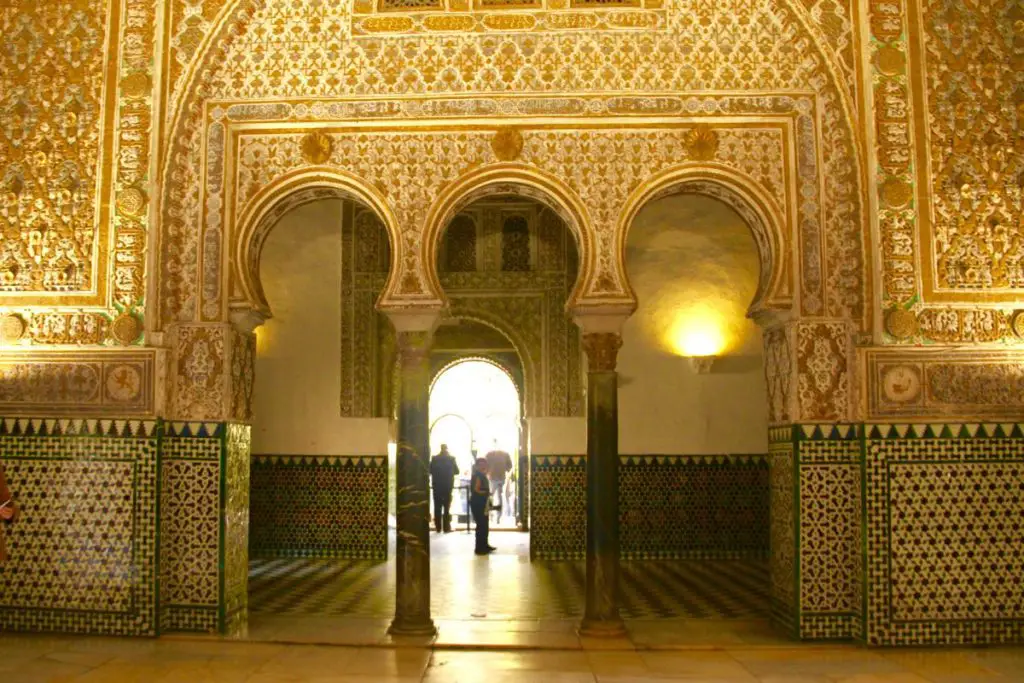 We first witness the royal palace in Episode 2 of Season 5 when we peek inside the private residence of the House Martell.  The palace itself was built by Moorish Muslim kings and is a stunning reminder of the sheer opulence of those times. For example, the Salon de los Embajadores  (Hall of Ambassadors) is the most elaborate room with a golden domed ceiling and decorative Mudejar tiles. The scenic Alcazar gardens was also used as the Water Gardens of Dorne where we see the Estanque de Mercuerio (Mercury's Pool) and flowing fountains. The Baños de Maria de Padilla ( Baths of Maria de Padilla) is a tranquil and mysterious space: its dark, narrow pool shows the clear reflection of the vaulted ceilings.
Set producers made very few changes to the set as the Alcazar already has a luxurious, stately atmosphere. In fact, today the current Spanish royal family still uses the upper level as their residence, so it's a fitting, natural setting for Dorne! If you take a tour of the Real Alcázar, be prepared to spend at least 3 or 4 hours here like I did – it will take your breath away!
You might also want to read: 3 days in Seville: Things to Do and See
Itallica, Spain
By Mark Wyld of wyldfamilytravel.com
Itallica lies just 15 minutes by taxi from the Seville city centre. the Itallica site was the birthplace of 2 Roman Emperors and ty site of one of the largest Roman Amphitheatre outside the capital. Today Itallica is know as one of the many outstanding filming locations from Game if Thrones.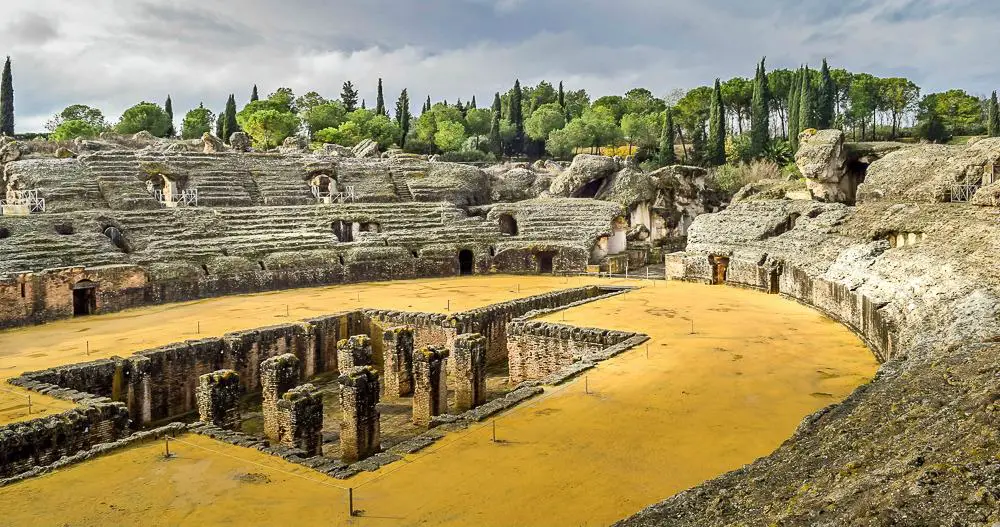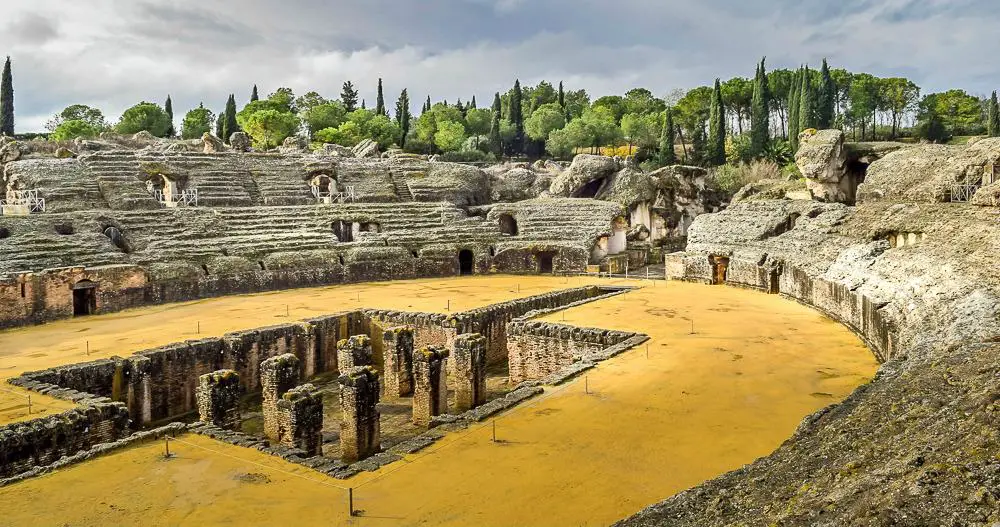 It is home to the Dragonpit in King's Landing, the place where the old Targaryen kings used to keep their dragons. It was where Sersi, Kahlisi and John Snow all came together for a meeting to discuss the white walkers. Itallica is my favourite location because of its age. The city was founded in 206bc in a time where life would have been similar to game of thrones. Power struggles between kingdoms would have been happening, kings and queens would have been coming and going. Game of thrones in this case may have actually mirrored life.
Carnlough, Northern Ireland
By Joanna from https://www.theworldinmypocket.co.uk
Carnlough is a small quiet village in Northern Ireland, with a charming harbour and a picturesque bay. Except for a plaque next to a few steps leading down into the harbour, nothing would suggest that this is one of the filming locations for Game of Thrones in Northern Ireland. 
Game of Thrones, season 6, episode 7. Arya Stark is crossing a stone bridge, in Braavos, when she encounters an old lady smiling at her. A few seconds later, the old lady turns out to be the Waif, who stabs Arya several times, before jumping into the water. The bridge where all the drama happened is none other than the one in Carnlough. 
As Arya emerges from underneath the water, hurt, she crawls up some steps into the streets of Braavos. Those steps, covered in green slippery moss, lead to the Carnlough harbour. 
Another interesting fact about Carnlough that connects it strongly with the Game of Thrones, is that many of the jewellery displayed in the series was made locally, by Steensons. The most recognisable ones are Margaery Tyrell and Joffery Baratheons wedding crowns, Joffery's Golden Crown, Daenerys dragon brooches, and the necklace Ser Dontos gives to Sansa in season 4.   
Many thanks to the authors who have contributed to this collab. Do keep on reading our Game of Thrones blog for more fabulous Game of Thrones filming locations including Girona, Trogir and Malta.