If you are planning to visit Croatia, one of the best cities to visit in the heart of Dalmatia is Split. Spreading on the Adriatic sea, a mix of modern life and ancient history.
Today is the second-largest city in Croatia, with lost of cool bars, lovely restaurants, and shops located in the old town. Split old town is small and easy to walk, but not easy to find the way around the best is to download the Split old town map here.
Besides natural beauty, lots of history, Split has to offer so many clubs to enjoy the nightlife, beautiful summer holidays by the sea, delicious food and wines. Split is definitely well worth a visit on a tour in Croatia. 
This town has to offer so many things to do. Here are the top 7things to do in Split:
Split Old Town
If you love history Split's old town can keep you engaged for hours.
Split is home to one of the best-preserved Roman remains in the world – the Diocletian Palace.
The palace was built by the Roman Emperor Diocletian, as a retirement home. Every Game Of Thrones fan knows that in this palace are filmed Game of Thrones scenes, where Daenerys's locked up and trained her dragons and it is the location for Daenerys's throne room as Meereen ruler. At the heart of the palace is the monumental courtyard known as the Perystile. The Perystile also leads up to the Cathedral of St. Dominus, and inside the Cathedral are rich collections of art and sculptures from the 14th century. Today alongside the palace you can find co many cozy cafes and restaurants.
The Riva Promenade
If you have seen a picture of Split probably you have seen The Riva Promenade. It's actually one of the most popular places for a stroll in Split and pride of every local here. Lined with cafes, bars and souvenir shops.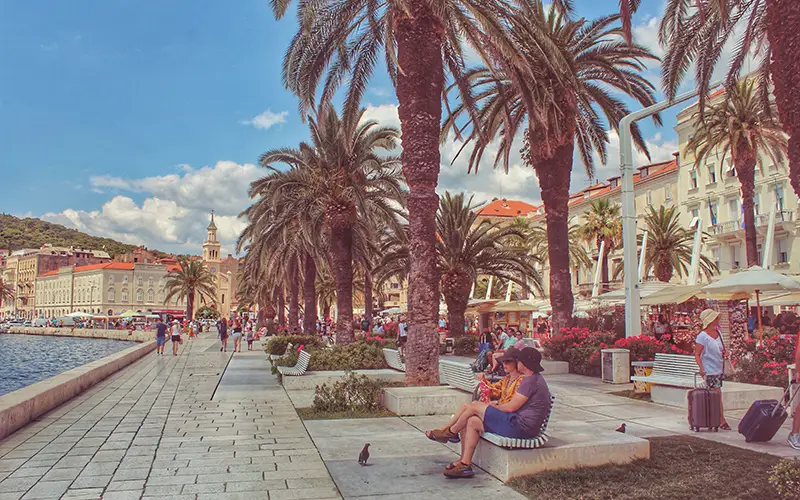 Try Croatian Food
Seafood is very popular in Split, there are so many restaurants in the old town where the menu changes every day depending on their daily supply of seafood. One of the most popular restaurants in Split with local cuisine is KONOBA NEVERA. What makes it more interesting are Dalmatian songs. To make the stay even more enjoyable there is traditional dalmatian music almost every night. Especially if you are a seafood lover this place is for you. What makes it more interesting are Dalmatian songs. To make the stay even more enjoyable there is traditional dalmatian music almost every night. Especially if you are a seafood lover this place is for you.
Climb Marjan Hill
Only 15 minutes to reach from the historic core of Split through the old quarter Varos. It has a marvelous view of the old and the new parts of the Split. There are not so many things to tell about this place, but just to enjoy this amazing view of Split.
If you want to relax more and have a drink there's a cafe called café bar Vidilica where you can chill out, and enjoy a view of the town and the sea.
Visit an island for a day
There are several islands to visit and are close to Split, but one of the most beautiful and famous are Hvar, Vis, and Brac. Getting there is easy, with around 14 ferry tours in a day during the summer season.
Hvar – or part island – with lots of VIP- facing hotels, night clubs, and marina stuffed full of luxury yachts. On the other side, Brac if glamourous with a cluster of cocktail bars and so many resort-style hotels. Vis is the furthest one and the one with the most authentic Adriatic experience. There are also guided tour with included lunch.
Spend a day on a beach -Bačvice, Kaštelet (Obojena), Ovčice, Žnjan are one of the best beaches in Split. You won't make a mistake if you decide to come on аny of these beaches.
Tip: In the summer months are crowded so if you want sunbeds and a better place to enjoy it's recommended to come earlier.
Bačvice beach is also one of the busiest night destinations for young people. So if you are planning a night out then going to Bačvice is a must.

Visit the  Kliss Fortress – located in the village of Kliss, overlooking the city of Split. The fortress represents the city of Meereen and it first makes an appearance in Season 4 when Daenerys and her army conquer the city of Meereen.In this location are filmed a couple of scenes in Season 6 when Tyrion and Varys make the long walk through the streets of Meereen dressed as peasants. For every Game Of Thrones lover, this guided tour is a must.
Best time to visit Split: Fall months are great to enjoy Split! September and October Split don't have a lot of tourists the weather is great and the sea is still warm.
Travel insurance is so important as it will help you with emergencies and unexpected costs on your trip. Make sure that you declare any pre-existing health conditions so that you are covered for those. Check your cover for accidents and medical care and also lost baggage or getting things stolen. Remember to report as soon as something goes wrong on your trip because some travel insurance companies require you to report something that you want to claim for within 24 hours. Read the fine print carefully when you sign up. I always use ad recommend World Nomads. You can get a free quote here:
More information for your trip to Croatia:
Split Croatia Beaches
Game of Thrones Croatia tour
Dubrovnik Game of Thrones Locations
Best Bars in Dubrovnik