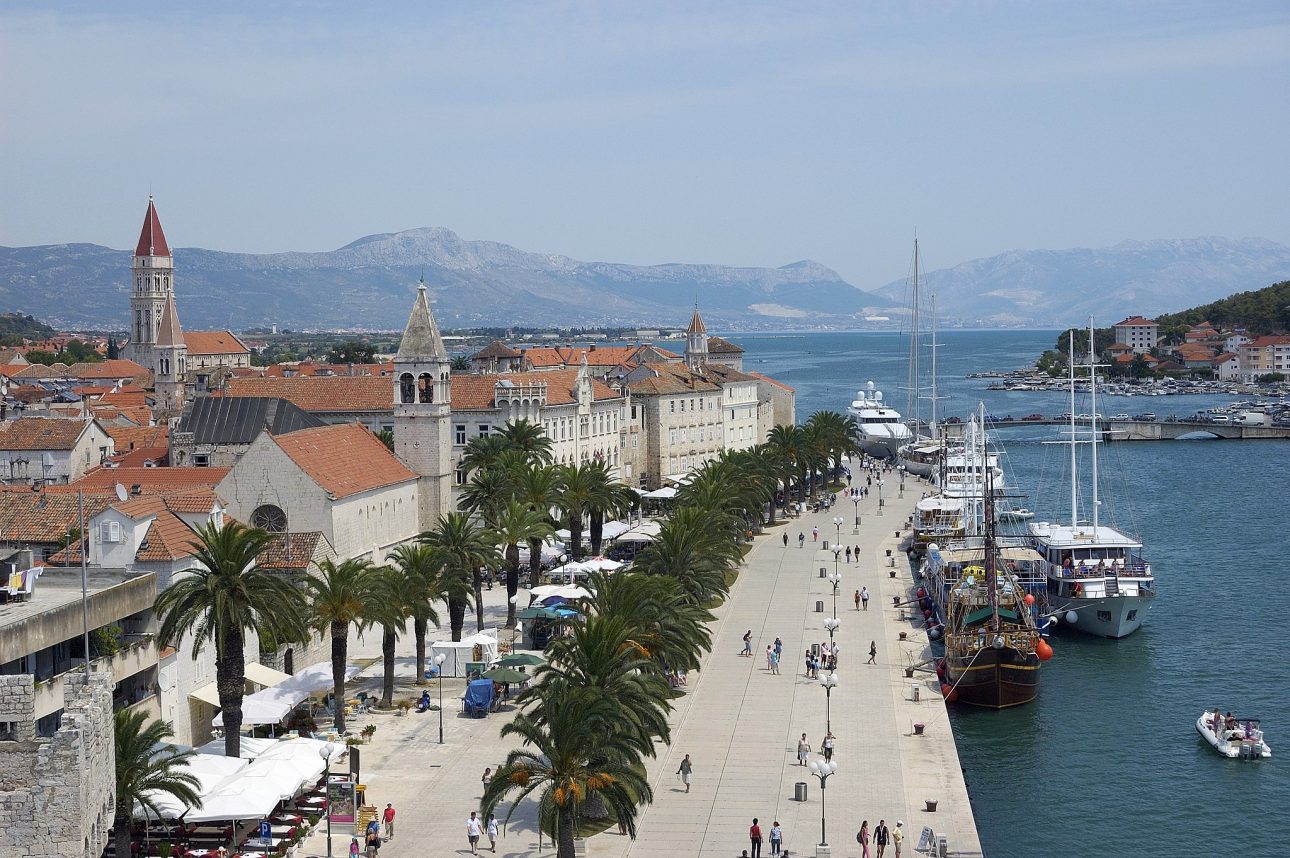 Croatia is home to many beautiful and exotic locations, and it also helped to create the world of Westeros. Game of Thrones used Trogir Split as a filming location for the trading harbour of Qarth. We're going to take a look at the town believed to be the most preserved Romanesque-Gothic town in Central Europe, and how it doubles up as the city of Qarth in the Game of Thrones.
The Best time to visit Trogir is late summer (preferably September) when the weather is still nice, the sea is still warm, but there are less crowds.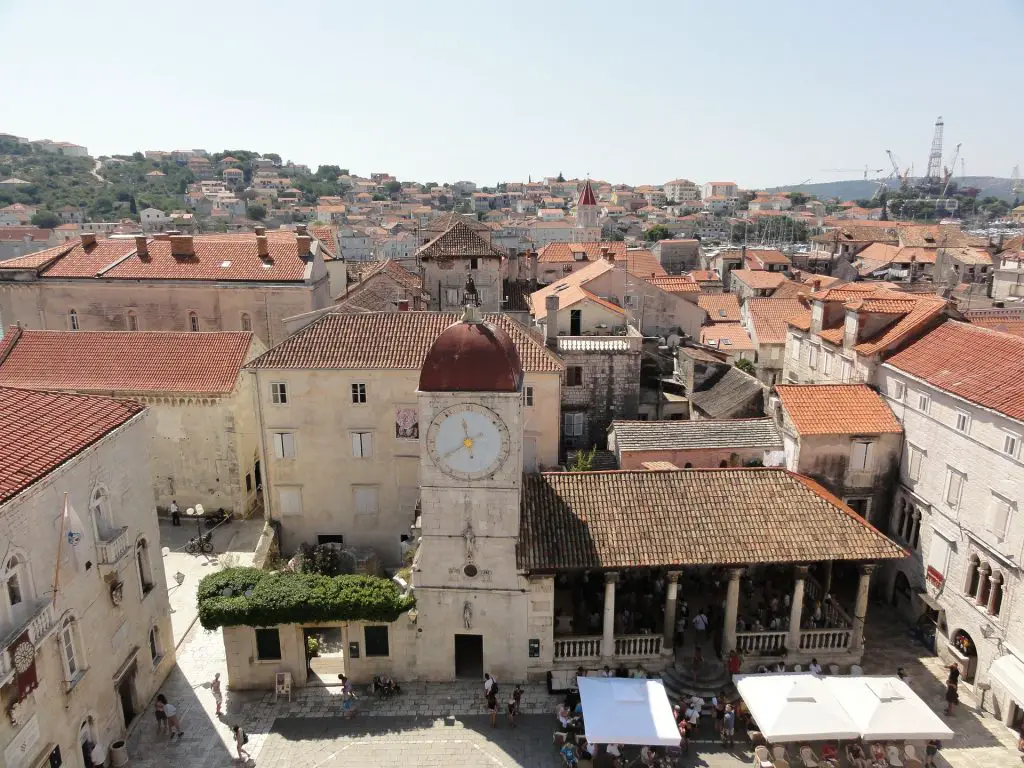 The City of Qarth – Trogir, Split
There's no doubt that the City of Qarth is a well-known part of the GOT universe –  "The Greatest City that Ever Was or Will Be". In Episode 4 of Season 2, "Garden of Bones", Daenerys first enters this beautiful place, and even back then it made an incredible impression.
The architecture in Trogir was already so ornate and beautiful (borrowing heavily from Venetian influences) that it was the obvious choice for such a magnificent city. While it's been used as a filming location for some other places, Game of Thrones fans will recognise it across the first six seasons. 
How Do I Reach Trogir? Flights to Split
The nearest entry point which is commercially available would be Split Airport and Trogir is 3.7 miles from the city of Split itself. There are rental vehicles all around to follow the road, and there's also public transport.
Typically, flights to Split from the UK will set you back between £100 – £200, which isn't too bad. There are direct flights from London Gatwick to Split with Tui and Easyjet. You can also fly direct from Manchester to Split with Jet2 and Thomas Cook.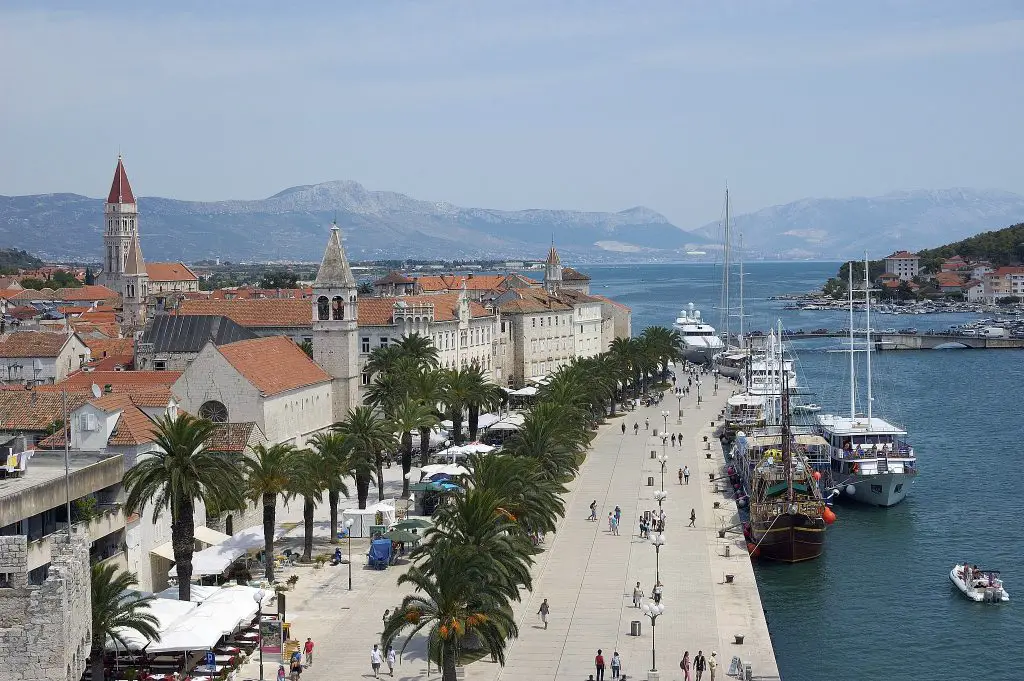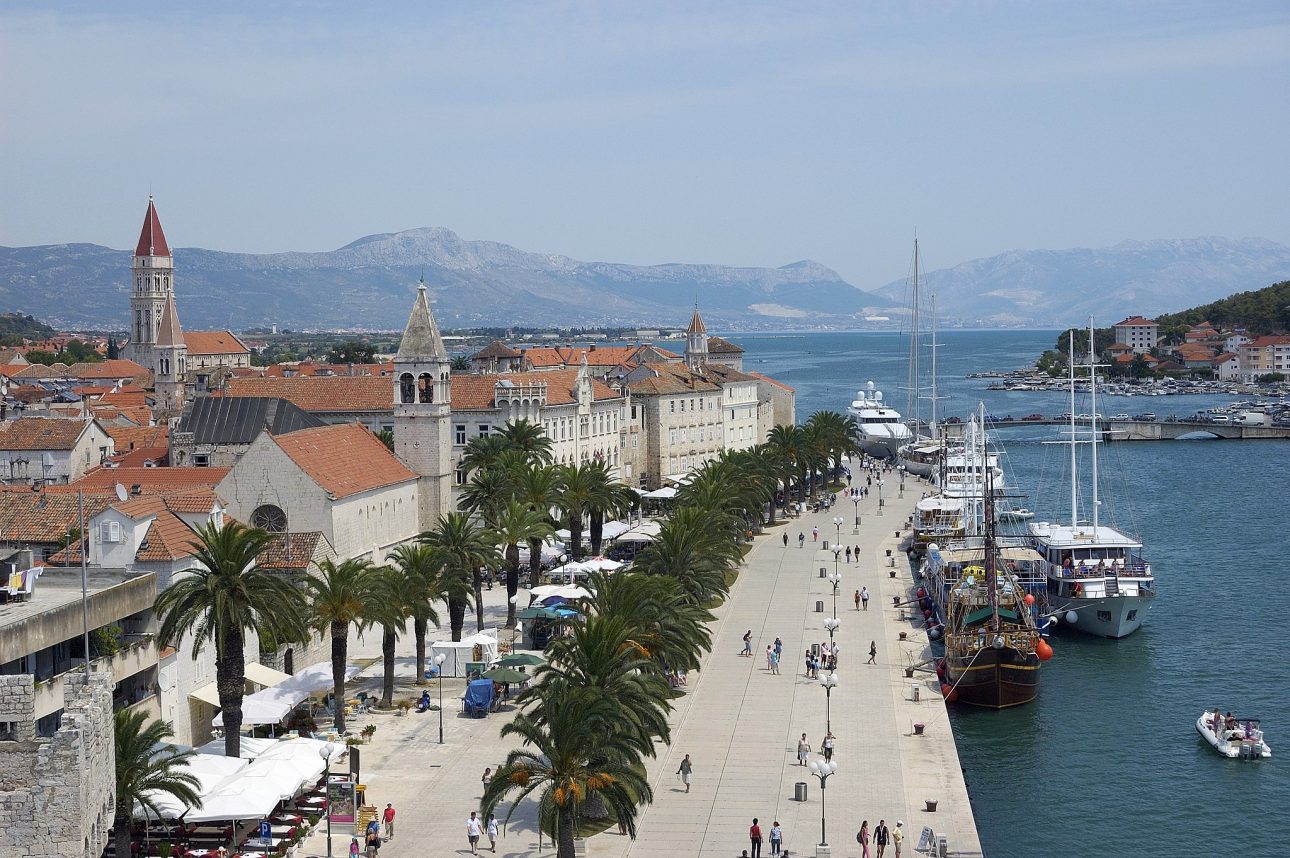 How to get from Split to Trogir
Travelling from Split, the number 37 public bus will take you there for a one-way cost of 22hrk. This vehicle passes through the airport and will take you to the Northern gates of the city. Don't worry – tickets can be purchased on the bus itself. 
Alternatively, there is a private ferry which makes several trips to the city every day and costs you 24hrk per person. A lovely way to come into the city, it's just one of the many options you have available.
How to get from Zagreb to Trogir
You may be flying into Zagreb or staying in Zagreb and then travelling South to Trogir. Getting from Zagreb to Trogir by bus is easy and fairly cheap compared to other travel options. The journey length is approximately 5 hours by bus (compared to just under 4 hours by car). The number of daily departures varies according to travel date, but usually there are 9 departures daily starting from 6am.
Other routes and Booking buses in Croatia
There are also regular buses from Zadar and Sibenik to Trogir. Buses in Croatia are cheap and easy to use. If you would like to book in advance, you can use https://www.buscroatia.com/routes-search.

Trogir Tours withGet Your Guide
Things to Do in Trogir Split
There's quite a bit for you to do in Trogir Split, and they help to give you the best experience possible when you're interested in architecture and history. There are 13 different churches across the city, and each one offers a unique look into the medieval history. Enjoy the red rooftops, palaces and religious buildings of the 'City of Qarth'.
Architectural Highlights of Trogir Split
Cathedral of St Lawrence
The primary attraction is the Cathedral of St. Lawrence – a Roman Catholic triple-naved basilica built in a Romanesque-Gothic architectural style.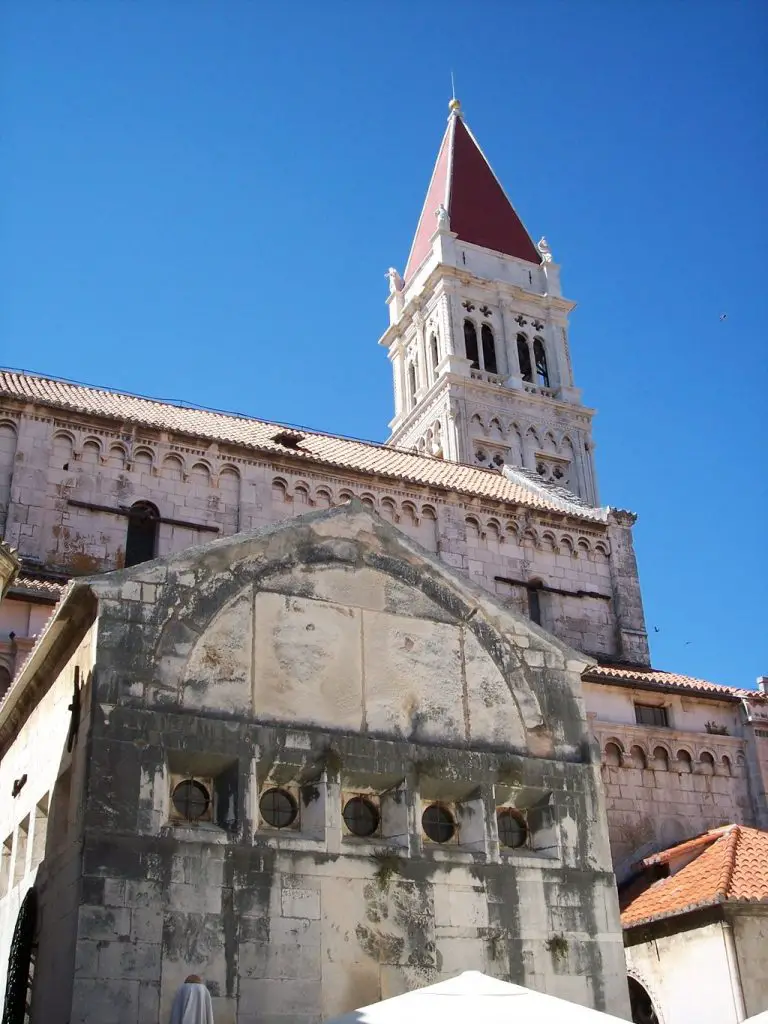 The beautiful Western portico was carved in 1240 and is often the focal point for visitors to the Cathedral. You can climb the bell tower for a fantastic panorama of the town.
Grand Cipiko Palace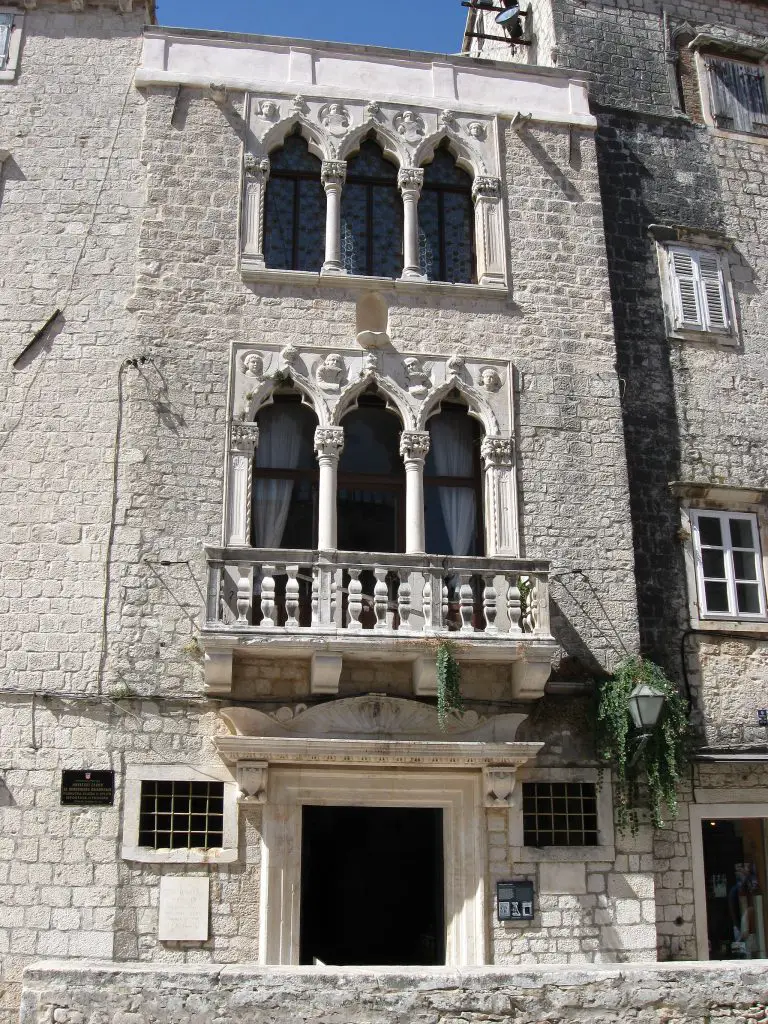 St Nicholas's Convent
St Nicolas's covent is a Benedictine monastery that was founded in 1604. It's worth a visit due to the riches of the treasury, which is home to a 3rd-century orange marble carving of Kairos, the Greek God of opportunity.
Kamerlego Castle
Kamerlego Castle looks like it could have been purpose built for the Game of Thrones set. It was actually built by the Venetians in 1420. Climb the castle to get an excellent view of Trogir harbour, which was filmed as the harbour of Qarth in the series.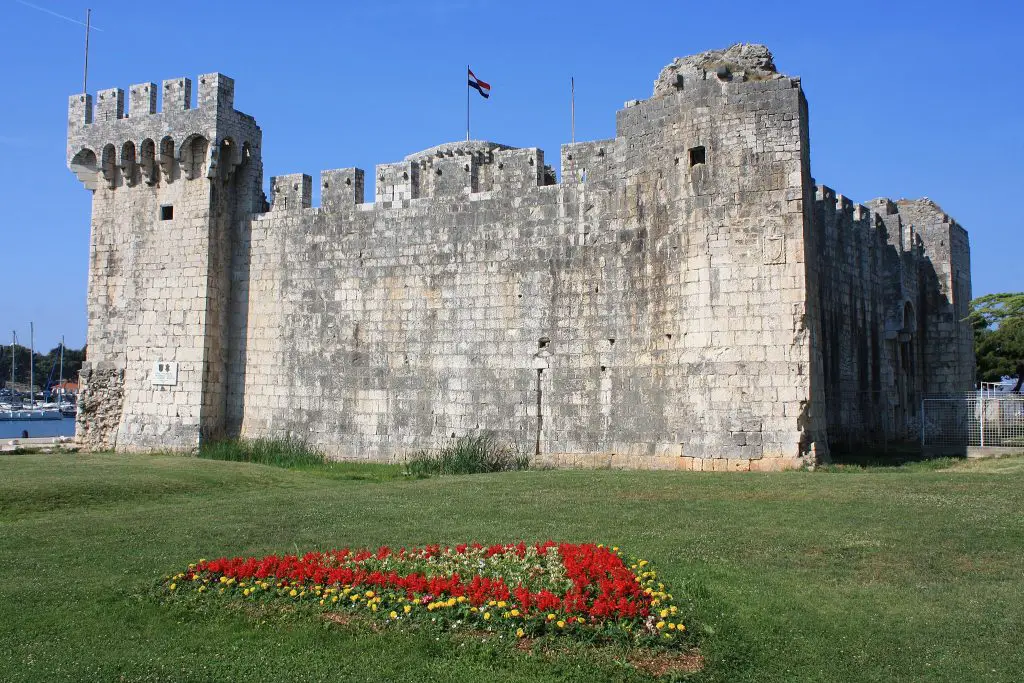 Marmont's Gloriette
Don't miss Marmont's Gloriette at the Western tip of the island. It's a French built Gazebo from Napolionic Damatia.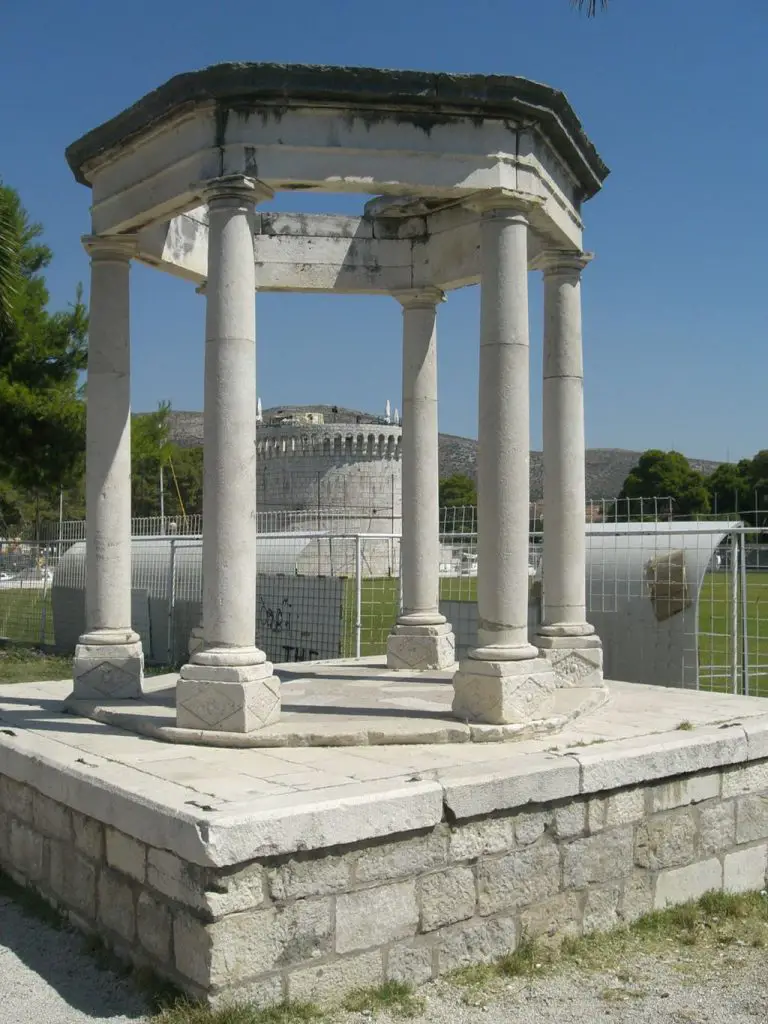 Trogir Shipyard
As the dominant industry for Trogir, the shipyard regularly has incredible ships under construction. It helps that they're located next to the Jadro River.
Diocletian's Palace – Split
At one point, this body of water provided for Diocletian's Palace, which is a sprawling complex that makes up much of the old town of Split. Split is the perfect next destination for GOT fans and the remains of the Old Town are classed as a World Heritage Site. Diocletian's palace itself was actually used as a filming location during the fourth season of Game of Thrones specifically – see if you can spot it the next time you revisit those episodes!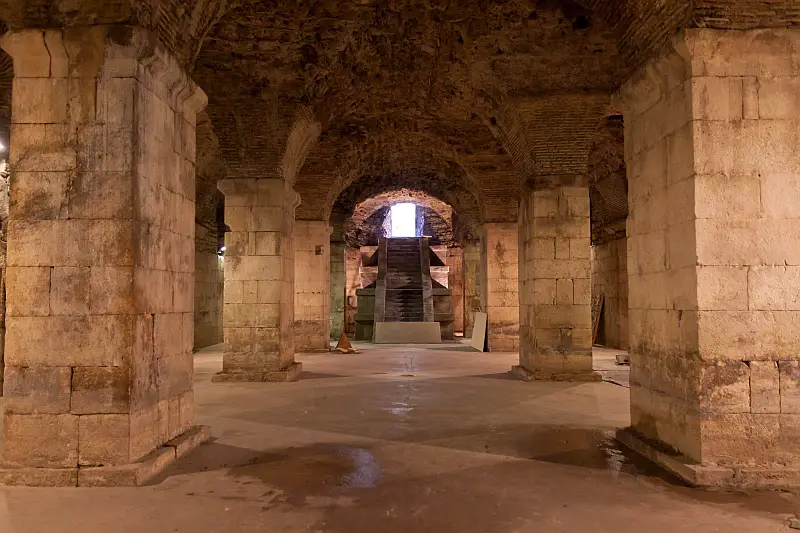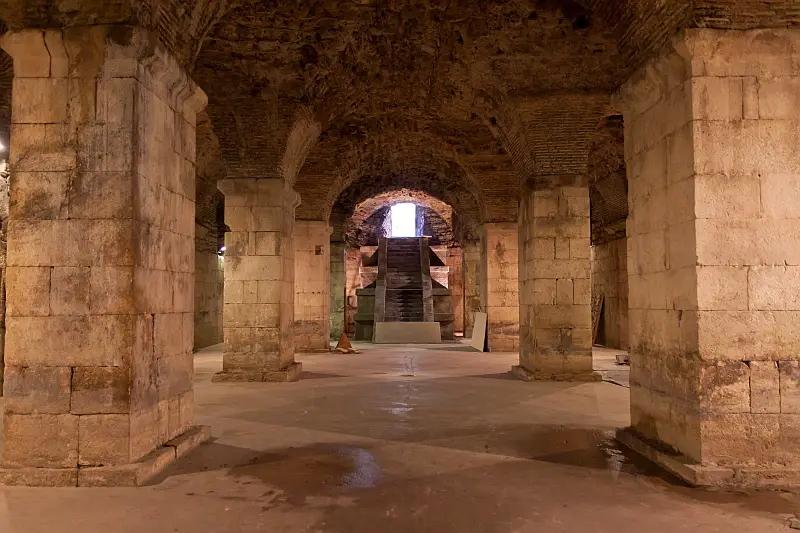 Hotels in Trogir – Where to Stay
Palace Central Square is excellent value and one of the best hotels in Trogir due to its excellent central location.


Further Reading on Game of Thrones Croatia
If you are a GOT fan travelling in Croatia, you might also like to read: